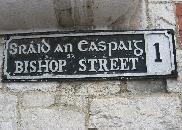 Making A  Mark For Halifax's Historic Irishtown Signage
On Monday evening, June 13th at HRM's City Hall the Peninsula Community Council passed a motion referring  to Staff for report back on the feasibility of implementation of bilingual Irish Gaelic / English or signage identifying Halifax's historic Irishtown after a presentation to council by board member and key Irishtown signage proponent , Tony O' Carroll and An Cumann President Troy M. Doyle's presentation.
This marked an important step to realizing the goals of a project that stretches past 2008 when City Hall was first approached on the initiative. The request for signage dates back to 2008 and the idea long before that, this step has given more support for the initiative which is currently before city staff. Signage can take on many variations and examples were shown during the presentation.
Why an Initiative on Signage?
To showcase a historic district in Halifax.
To recognize a heritage community's contribution to the city – Possibly encouraging to newer ethnic groups.
It creates a tourism theme the blends in well with overall historic themes.
In terms of Destination Tourism: it appeals to a significant segment of North American / European tourists.
Not a pioneer program – there are similar community designations in US & Canadian cities – (as displayed in this article).
An Cumman's Proposal to  The Halifax Regional Municipality
We are asking for either bilingual or distinctive historic neighborhood signage. This does not involve renaming / changing street names references as the original street names of old Irishtown are still in current use. The cost is relatively low cost compared with other heritage project possibilities, we obtained some initial pricing of approximately $50.00 per sign.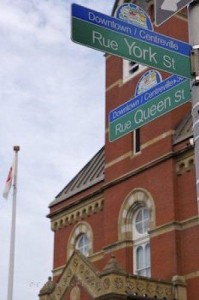 Brief Irishtown History
Shortly after 1749 in our early city, 40% of inhabitants were described as Irish.
From these early days the metro area (what is now HRM) was clearly the key destination point of Irish immigration to Nova Scotia.
In 1756 Halifax, the street language was described as Irish Gaelic.
Around the same time there were the first references to an early Irishtown.
A second, more identifiable town emerged in the 1840's.
The main Irishtown was 18 – 20 downtown blocks encompassing:   North → South: Prince to South Sts. / East →West: The harbour front to Barrington St.
* Our thanks to Halifax based historian Terry Punch. Terry's fourth volume of a series Erin's Sons: Irish Arrivals in Atlantic Canada 1761-1863 – Four Volumes By Terrence M. Punch, FRSAI, for more of a description about Erin's Sons or to purchase Terry Punch's books at the Global Genealogy.com or Amazon.com by following the links below:
http://globalgenealogy.com/countries/canada/atlantic-canada/resources/2184708.htm
http://www.amazon.com/Erins-Sons-Arrivals-Atlantic-1761-1853/dp/0806317825